WRMC Medical Complex Southside Welcomes Providers
WRMC Medical Complex Southside Welcomes Providers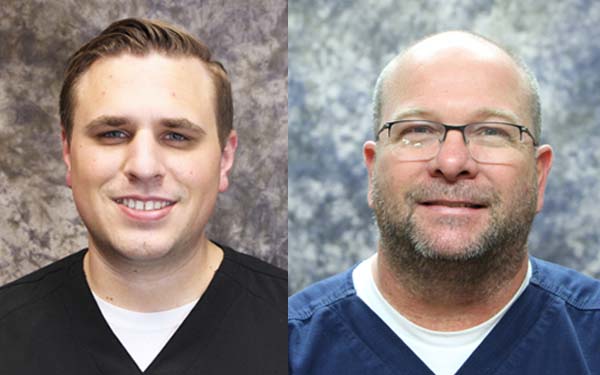 (Batesville, Ark.) — White River Health is proud to introduce providers Brandon Womack, APRN, and James Bridgeman, APRN. Both are practicing at the WRMC Medical Complex Southside. Bridgeman and Womack join APRN's, Jennifer Blaney, and Kayla Crawford.
As Family Nurse Practitioners, Bridgeman and Womack provide healthcare to patients of all ages. They are available for the treatment of acute illnesses, chronic conditions, and wellness exams. They are dedicated to providing quality care to patients, as well as maintaining direct communication with patients and the healthcare community.
Bridgeman started seeing patients at the WRMC Medical Complex Southside in July of this year. He earned a Bachelor of Science in Nursing from the University of Arkansas at Little Rock and a Master of Science in Nursing from Walden University. Bridgeman has many years of healthcare experience. He was a paramedic for 12 years, a Registered Nurse in Emergency Care for 14 years, and has been a Nurse Practitioner for 2 years.
"After being in the healthcare field as a paramedic and registered nurse for over 25 years, I am eager to go to the next level and provide care for the people in my community."
Bridgeman and his wife of 33 years, Amy, reside in Thida. They have two children, Josh and Madeline, who married Charla and Seth. They have one granddaughter named Emma. On his time off, Bridgeman enjoys camping, woodworking, and golfing.
Womack earned a Bachelor of Science in Nursing from Harding University. He received a Master of Science in Nursing from the University of Central Arkansas. Prior to becoming an APRN, Womack worked as a Registered Nurse (RN) in the Progressive Care Unit (PCU) and Intensive Care Unit (ICU). Most recently he worked as a Charge Nurse in ICU, acting as rapid response.
"I became interested in serving as a family nurse practitioner because I wanted to become a leader in my patient's healthcare," said Womack. "My goal is to encourage patients to seek preventative care so that underlying health conditions can be caught at an earlier stage. In addition, I plan to make patient's experience with me as efficient as possible. I hope to encourage a healthy way of life and aid patients in achieving optimal health."
Womack and his wife, Kaitlin, reside in Horseshoe Bend. They have one dog, Pumpkin, and enjoy hiking, camping, and being in the outdoors. Womack is a native to Arkansas, graduating from Melbourne High School.
"I'm thankful to be a part of the Southside and Batesville communities," said Womack. "I hope to serve as a healthcare leader and look forward to assisting my patients in their healthcare journey. I'm grateful for this opportunity to serve others, and I look forward to meeting new patients."
The WRMC Medical Complex Southside is located at 1217 Batesville Boulevard and is open every day from 8AM to 6PM. The providers are accepting walk-ins and new patients. To make an appointment, call (870) 262-2800.