WRMC Information Systems, Auxiliary Team Up to Deliver Flowers to Brighten Patients' Day
WRMC Information Systems, Auxiliary Team Up to Deliver Flowers to Brighten Patients' Day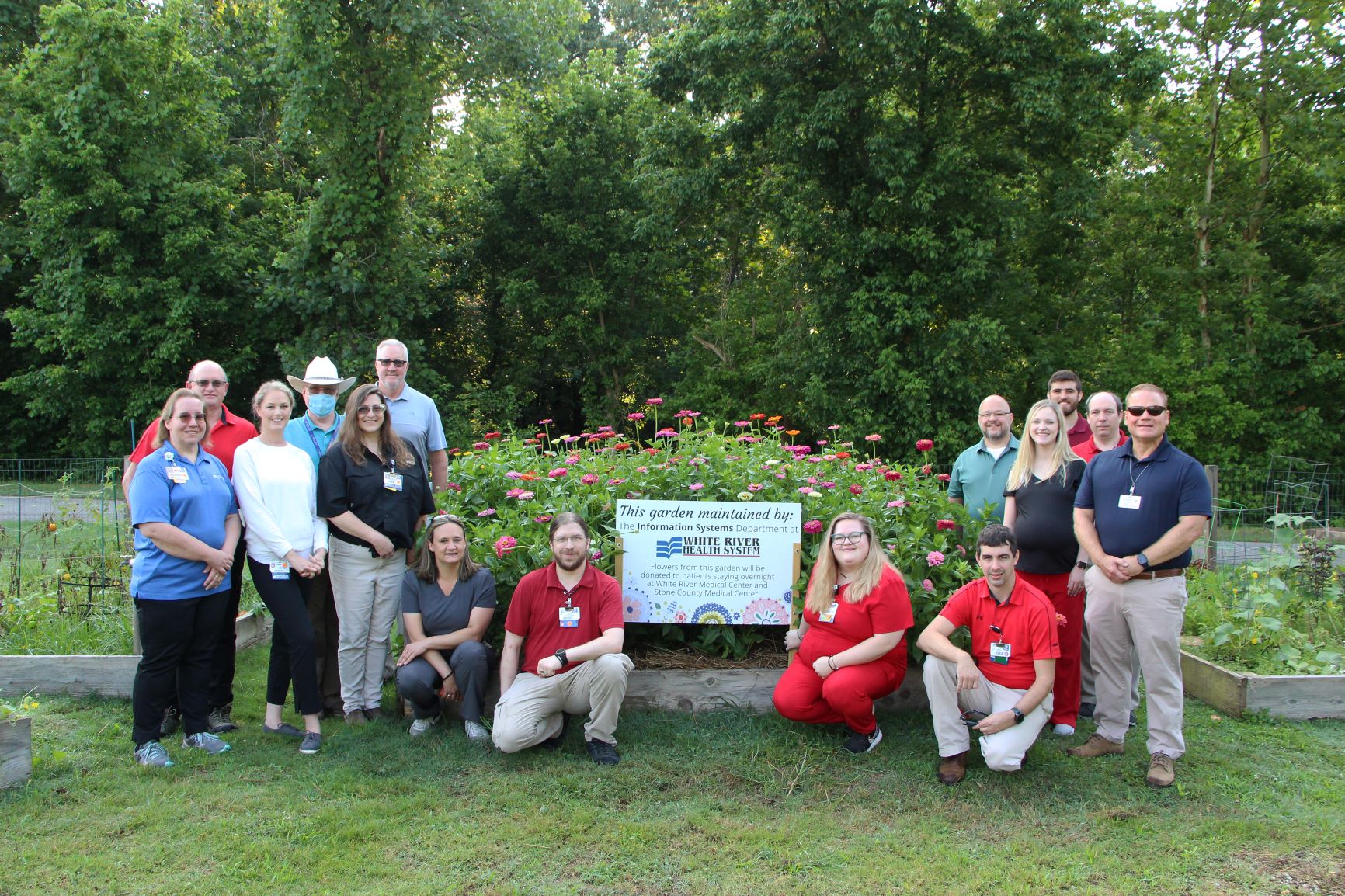 The Information Systems staff are growing two beds of zinnias in the Batesville Community Garden. The staff work in collaboration with Auxiliary volunteers to deliver the flowers to patients at White River Medical Center and Stone County Medical Center.
Batesville, AR — A new community service project is taking root at White River Medical Center (WRMC). Thanks to the efforts of the Information Systems (IS) staff and WRMC Auxiliary volunteers, patients at WRMC and Stone County Medical Center are receiving vases of colorful zinnias to brighten their day.
Serendipity led the two groups to form a partnership for the project. The Auxiliary volunteers planned to take on a community garden project last year; however, the project had to be placed on hold because of the COVID-19 pandemic. Toi McMullin, Director of Volunteer Services and Community Relations, said when Jeff Reifsteck, Vice President and Chief Information Officer, approached her about the zinnia project, the Auxiliary volunteers offered the bed they had secured. Reifsteck said the Independence County Master Gardeners offered an additional bed to devote to the project. Reifsteck is a Certified Master Gardener and a member of the Independence County Master Gardeners. White River Health (WRHS) is a sponsor of the Batesville Community Garden.
"It's a win-win for both sides," McMullin said. "The patients are so thankful and appreciative, and the volunteers enjoy giving back. Seeing the smile on patients' faces makes it all worth it. That's what we are here for — to serve the community." In addition to helping deliver the flowers, the volunteers also collect vases for the project.
Reifsteck started 350-400 zinnias at his home that the IS team planted together in the community garden beds. Zinnias were chosen because they are prolific bloomers and are very drought tolerant.
Gardening was engrained in Reifsteck at a young age as he helped his parents tend a large family garden. His natural love of gardening and his search for a community service outlet led him to joining the Master Gardeners. He said the Master Gardeners and WRHS executive team share a commitment to community service.
Reifsteck said the project has allowed his team to grow closer through service to others. "My team has the biggest heart. We have done so much community service since I have been here. I am so glad we are doing this because my team is really enjoying it. Working in Information Systems, you don't feel like you have a direct impact on the patients. This has been so well received by the patients and my team as well. We are like a family, and this is bringing us even closer together. It warms my heart to see the level of involvement that they have committed."
Zinnias will continue to be cut and delivered until the first frost, Reifsteck said. The group hopes to expand the project next year.
For those interested in learning more about the Independence County Master Gardeners, contact Michelle Mobley, Independence County Extension Agent-Staff Chair, at 870-793-8840. The organization will offer training Sept. 22-Oct. 27. Applications are available at the Extension Office at 1770 Meyers Street. The application deadline is Aug. 27. Training is open to anyone interested in gardening and willing to participate in one or more of the public horticultural projects sponsored by the Master Gardeners. First-year Master Gardeners are required to commit 40 hours of volunteer time their first year and 20 hours per year thereafter.
For those interested in securing a community garden bed, call 870-698-2400 ext. 331.