WRHS, UACCB partner to provide mental health counseling to college students
WRHS, UACCB partner to provide mental health counseling to college students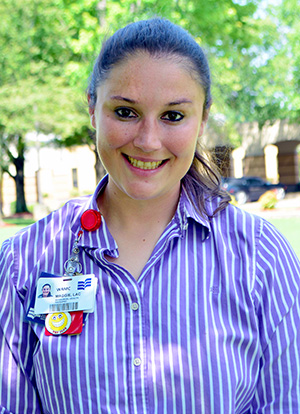 Maggie Beshears, LPC, is Director of Counseling for the new mental health counseling center at the University of Arkansas Community College at Batesville.
(Batesville, Ark) — National trends indicate an increase in college students struggling with mental health issues, and the stress of the COVID-19 pandemic is compounding the problem.
According to the Healthy Minds Study 2020 Winter/Spring Data Report published by the Health Minds Network, 37% of college students report experiencing some level of depression, and 31% of students experience some level of anxiety. The Healthy Minds Study is an annual web-based survey study examining mental health, service utilization, and related issues among undergraduate and graduate students. Since its national launch in 2007, the Healthy Minds Study has been fielded at about 400 colleges and universities, with over 550,000 survey respondents.
Because of this growing need for mental health services, the University of Arkansas Community College at Batesville developed a partnership with White River Health System (WRHS) to provide mental health counseling services to students. Dr. Patrick Mulick, clinical supervisor for Behavioral Health Services at White River Medical Center (WRMC), said as of July 1, UACCB and WRHS formed a collaboration to better address and treat the mental health needs of the UACCB student body.
Zach Perrine, UACCB interim chancellor, said the college offered free virtual counseling services through a third-party vendor; however, the campus administration wanted a viable option to offer services on campus for students. "We needed to partner with a major medical center to escalate the level of services we offered to students," Perrine said. The college initiated a request for proposals process, and WRHS was selected.
"Administrators at UACCB saw a need for mental health services increase during the COVID pandemic," Mulick said. "Given the significant size of the UACCB student population, both institutions saw this collaboration as an opportunity to have a positive, broad impact on mental health needs in our community. Through the collaboration, UACCB and WRHS contribute financially to the cost of a full-time counselor located exclusively on the UACCB campus. WRHS will also conduct events on UACCB's campus focused on mental health awareness."
Maggie Beshears, LPC, is Director of Counseling in the new mental health counseling center at UACCB. She previously worked as a Behavioral Health Therapist at WRMC. The center is anticipated to be completed around Labor Day, Perrine said; however, students can contact Beshears now if they need assistance. Academic advising will also be in the center.
"It's a very creative and innovative partnership," Perrine said. "I don't know of another institution that has this type of set up."
Perrine said the college utilized funding from the Coronavirus Response and Relief Supplemental Appropriations Act to create the new counseling center on campus. Services are free and will include counseling for depression, anxiety, stress, and trauma. In addition to providing direct therapy to students, mental health education and training will also be offered to faculty, staff, and students.
"It will be very similar to any other therapy office," Beshears said. "We will work primarily with students, and we will help faculty and staff with brief problem solving. If a higher level of care is needed, we can refer faculty, staff, and students to the resources they need."
Beshears said the new role was a perfect fit for her. She is intimately familiar with campus as a UACCB alumnus. Her mother, Susan Tripp, previously taught on campus and served as the Division Chair for Arts and Humanities. "I grew up here," Beshears said. "After I received my LPC, I planned to work at WRHS's outpatient clinic. When Dr. Pat Mulick told me UACCB wanted to put a counselor on campus, tears started streaming down my face. It was perfect. This is like coming home."
For more information regarding counseling services, students can contact Beshears at 870-612-2035 or email maggie.beshears@uaccb.edu. This is a non-crisis phone number. For those needing mental health crisis intervention, the National Suicide Prevention hotline is 1-800-273-8255.