WRHS Nurses Selected as Top 40 Nurse Leaders
WRHS Nurses Selected as Top 40 Nurse Leaders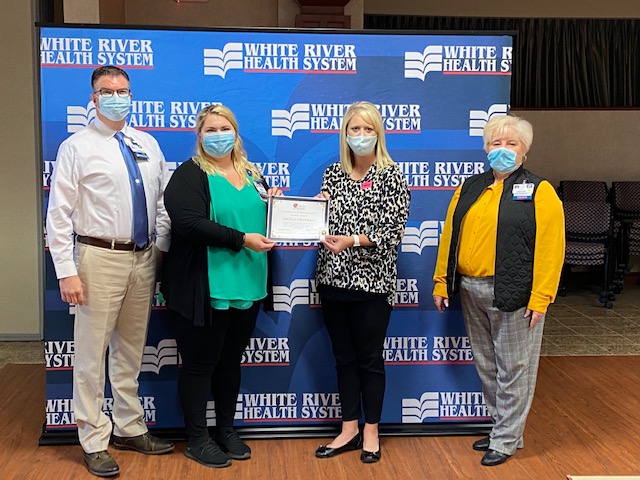 (Batesville, Ark.) — Angela Chapman, MSN, RN, White River Health (WRHS) Education Department Manager, and Stephanie Welch, MSN, BAP, RN, CMSRN, WRHS Director of Quality, were recently selected as Arkansas Center for Nursing's top 40 Nurse Leaders Under 40. They will be presented with the award during a recognition ceremony on October 12th at the Benton Event Center.
This recognition celebrates and encourages exemplary dedication and leadership in the nursing profession. Nominees are selected through a competitive process which evaluates nursing leaders' commitment to excellence, service, outreach within their community, leadership skills, and involvement in advancing the nursing profession. This prestigious award has been presented to noteworthy nurses for six years.
Angela received her Licensed Practical Nursing (LPN) and Registered Nursing (RN) certificates from the University of Arkansas Community College at Batesville. She received her Bachelor of Science in Nursing from the University of Arkansas for Medical Sciences (UAMS). She completed her Master of Science in Nursing from Capella University. She is currently attending the Family Nurse Practitioner Program at Arkansas State University (ASU). Angela has worked in the healthcare field for 10 years.
"What an amazing honor to receive such a recognition," said Angela. I'm so thankful for those I have had the privilege to work with, learn and grow from. I am humbled to have received this award and hope to always lead with a servant heart."
As Education Department Director at WRHS, Angela spends her day helping healthcare staff meet goals, feel valued, and pursue their passion. She wants WRHS staff to succeed as a team and make a difference for our patients and community.
Stephanie received her Bachelor of Science in Psychology from Arizona State University. She received a Registered Nursing Certificate from Baptist Health College. She completed her Bachelor of Science in Nursing from Arkansas Tech University and her Masters in Science of Nursing from Chamberlain University. Stephanie has worked in the healthcare field for eight years.
"I am so grateful to be recognized and awarded this honor within the nursing profession that works tirelessly to improve the health of our communities," said Stephanie. "I am beyond thankful to my wonderful team of co-workers and leaders at WRHS for supporting and inspiring my growth as a nurse and as a leader."
As the Director of Quality at WRHS, Stephanie spends her days improving processes so healthcare workers at the bedside can provide the highest level of quality care to patients.
"We are proud to have leaders in our organization who are passionate about improving quality of care and helping our staff provide the best care possible to our patients," said Gary Paxson, President & CEO of White River Health.
White River Health is a not-for-profit healthcare system serving residents throughout North Central Arkansas. The system includes White River Medical Center in Batesville, Stone County Medical Center in Mountain View, outpatient facilities, primary care and specialty physician office practices, and senior life centers. WRHS is a member of the Premier Alliance, the American Hospital Association, and the Arkansas Hospital Association and licensed by the Arkansas Department of Health.
-30-