WRHS Announces Maternity Nurse Navigator
WRHS Announces Maternity Nurse Navigator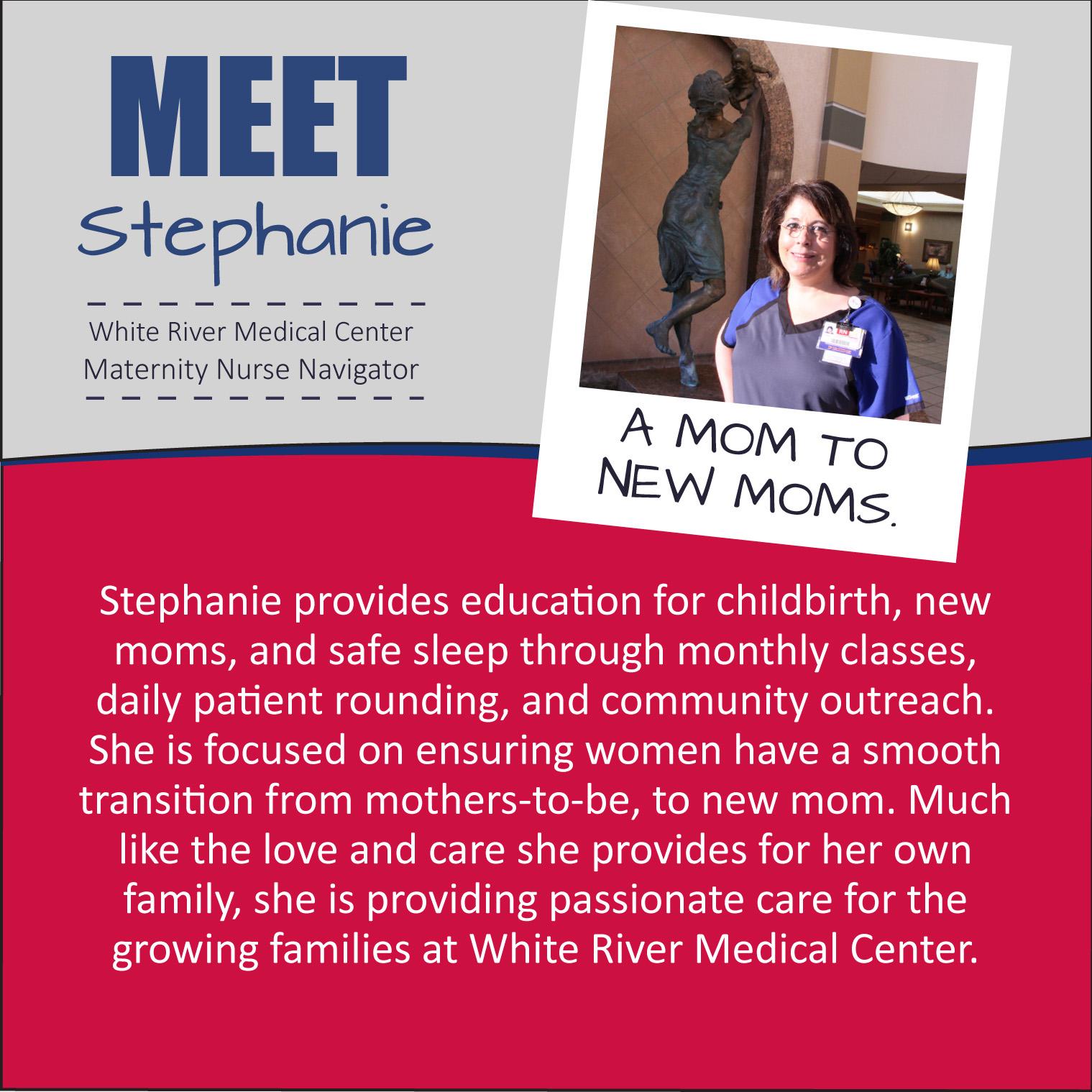 (Batesville, Ark.)— White River Health (WRHS) is pleased to provide additional support for expecting parents through a Maternity Nurse Navigation program at White River Medical Center (WRMC). Stephanie Wade, RN, BSN, CLC, has been named the Maternity Nurse Navigator.
As Maternity Nurse Navigator, Stephanie works with a patient's care team to guide them through prenatal and postpartum care. She provides ongoing support after discharge through monthly groups, discharge calls, and follow up. She also assists with staff education within the maternity department and outside of the department.
Stephanie received her Associate Nursing Degree from the University of Arkansas Community College at Batesville. She received her Bachelor of Science in Nursing from the University of Texas at Arlington. She is a member of the Arkansas Breastfeeding Coalition, Arkansas Nurses Association and the Association of Women's Health, Obstetric and Neonatal Nurses.
Stephanie leads educational outreach regarding topics like Safe Sleep through events in WRMC's service area. She also leads groups such as the Childbirth/Breastfeeding class held on the second Tuesday of each month and the New Mom's Support Group on the second and fourth Thursday of each month. Childbirth Education Classes are available to expecting mothers to help prepare for the labor process. A New Mom's Support Group will begin this month for first-time mothers seeking insight from other moms. Both events are held at WRMC's Josephine Raye Rogers Conference Center.
"Education is very important to me, not only in a student role, but in a teacher/leader role," said Stephanie. "This position allows me to provide evidenced-based training to our new nurses and student nurses. I am also privileged to provide education and support to families as they grow. I want everyone to feel they can come to me anytime. Caring for others is what I feel my purpose is."
Stephanie's has 14 years of experience as a nurse. She has over eight years of experience in surgery. She began her career at WRMC in the Medical/Surgical department. Soon after starting work at WRMC in 2013, Stephanie transferred to the Maternity Department. Through her time at WRMC, Stephanie has consistently been recognized as a positive and encouraging employee. Stephanie was recognized as the employee of the month in March of 2015 and was later voted as WRMC's Employee of the Year.
"Stephanie is a great nurse and a strong advocate for maternal care," said Gary Paxson, President and CEO of White River Health. "I am confident Stephanie will enhance the overall experience for expecting parents, and provide them the resources and confidence to care for themselves and their child(ren) before, during, and after pregnancy."
Stephanie and her husband, Randy, have a daughter, Donia; a son, Kyler; and one grandson, Riley. She and her husband enjoy time spent together playing guitar and singing, hiking, and fishing.
###