WRH to Expand Oncology & Infusion Center Through Capital Campaign
WRH to Expand Oncology & Infusion Center Through Capital Campaign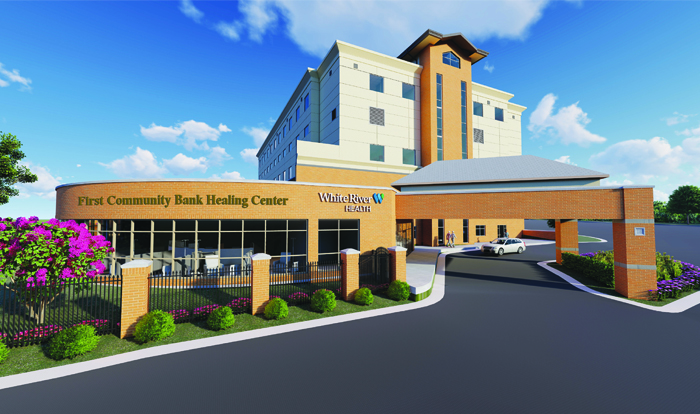 (Batesville, Ark) – Gary Paxson, White River Health (WRH) President & CEO, announced a $2M Capital Campaign with a lead gift by First Community Bank benefiting the WRH Oncology and Infusion Center. Plans include adding 5,000 square feet of new construction and renovation of the current 2,000 square foot Oncology Clinic and Infusion Center. The project allows patients to receive life-saving cancer care locally.
The Infusion Center expansion addresses the critical need for more treatment space, privacy for patients and families, nutritional support, upgrades to the oncology pharmacy, and nurse workspace. The project also includes a covered entrance to the facility in the event of inclement weather, an expanded waiting room, and healing garden and patio that will provide a beautiful view and healing environment for patients and loved ones during their treatment journey.
"We all know someone – often a family member or friend -- who has battled cancer. Providing every opportunity to win that battle for each member of our community is the heart of the mission of WRH. This new space is a significant enhancement that will provide a more comfortable and calming environment which offers our families and friends an even greater opportunity to win the battle against cancer right here in our community." said Paxson.
WRH Foundation is leading the Capital Campaign, which is moving into a public phase.
"We are grateful to First Community Bank, our business partners, employees, and friends of the Foundation who are generously supporting this project, " said Michele VanWinkle, Executive Director, WRH Marketing, Foundation, and Volunteer Services. "Every campaign gift helps to ensure residents of our region have access to medical care that saves lives and improves the health of our communities."
"Community is at the heart of everything we do," said Dale Cole, Chairman and Chief Executive Officer, First Community Bank. "We're proud to stand behind White River Health, as a testament to our commitment to enhancing every community that we serve. By supporting the expansion of the hospital's oncology and infusion center, we're helping them to provide vital care to those in need. Together, we're shaping a healthier and stronger future for our community."
For more information about how to support the campaign to expand WRH's Oncology and Infusion Center, contact Morgan Reyes, Foundation Coordinator, at 870-262-1834 or via email mreyes@whiteriverhealth.org. Checks can be made to WRH Foundation and sent to 1710 Harrison Street, Batesville, AR 72501 with attention to WRH Foundation. Gifts to WRH Foundation are tax deductible within IRS guidelines.
White River Health (WRH) is an independent, not-for-profit healthcare system serving residents throughout North Central Arkansas. White River Health includes White River Medical Center in Batesville, Stone County Medical Center in Mountain View, outpatient facilities, primary care and specialty physician office practices, and Senior Life Centers. WRH is a member of the Premier Alliance, the American Hospital Association, and the Arkansas Hospital Association and licensed by the Arkansas Department of Health.
###
Posted 9/5/2023