WRH Foundation Golf Classic Benefits Oncology Expansion
WRH Foundation Golf Classic Benefits Oncology Expansion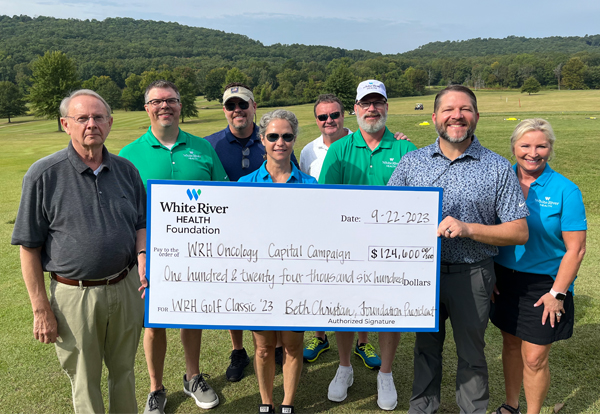 (Batesville, Ark) – The 27th Annual White River Health (WRH) Foundation Golf Classic raised $124,600 for White River Health's Oncology and Infusion Center expansion.
On Friday, September 22, 30 teams competed at The Course at Eagle Mountain. The tournament was sponsored by 46 businesses and individuals in the community.
"This year's Golf Classic was a success," said Michele VanWinkle, Executive Director of Marketing, Foundation, and Volunteer Services. "Many thanks to Lucy-Q BBQ, our sponsors, players, volunteers, and The Course at Eagle Mountain. The support of our sponsors and donors enables us to continue to advance cancer treatment services in our region."
The WRH Foundation would like to thank this year's top sponsors. Presenting Sponsor: First Community Bank; Eagle Sponsors: Bad Boy Mowers, The Course at Eagle Mountain, FARCO, Pepsi Co., Randy Reichardt Insurance Agency, Smith Plumbing, Inc., and Wann Office Supply; Photo Sponsors: Precise Heat & Air and The Intermed Group; Cart Sponsors: Signet Healthcare and White River Financial Services; Hat Sponsor: Lyon College; Towel Sponsors: Centennial Bank, Edward Jones, and Wade's Heat, Air, & Electric; 19th Hole: Survival Flight; Lunch Sponsor: Rawk Imprinting; Dinner Sponsor: Carpet Corner; Closest to the Pin: Bad Boy Mowers and AceOne Technologies; Longest Drive: Lyon College; Putting Contest: Citizens Bank and Doctors Anatomic Pathology; Straightest Drive: Wright, Lindsey, & Jennings; Hole-In-One: Stanley Wood Chevrolet; WRH Foundation would also like to thank all the hole sponsors, players, and supporters.
In addition, approximately 53 WRH employees and friends volunteered at the tournament.
"We are so grateful for everyone who made this year's golf tournament such a successful event," said Gary Paxson, WRH President and CEO. "We had a great turnout of players, sponsors, and volunteers who are all interested in providing greater levels of service to the cancer patients in our community. We are blessed to have such a caring community willing to participate in this important fundraising event."
Since 1995, the WRH Foundation Golf Classic has raised more than $1.5M to advance healthcare missions and growth at WRH.
For more information about the WRH Foundation and ways to contribute, contact Michele VanWinkle, Executive Director, Marketing, Foundation & Volunteer Services at (870) 262-6033 or mwood@whiteriverhealth.org.
1st Place – Wann Office Supply: Garth Branstetter, Shawn Drake, Jed Porter, Bart Simmons
2nd Place – First Community Bank: Boris Dover, Bill Keedy, Jordan Perry, David Wood
3rd Place – American Fidelity: Brandon Fuller, Chad Grady, Tyler Reynolds, Dan Wells
Men's Long Drive – Connor Millard
Women's Long Drive – Lorie Pinckard
Straightest Drive – Dan Wells
Putting Contest – Vinh Nguyen
Closest to the Pin
#3 – Brandon Fuller
#6 – Lorie Pinckard
#13 – Garth Branstetter
#15 – Michael Brookshire
Blue Golf Ball Challenge -- Citizens Bank: Landon Downing, Michael Hoggard, Jerrod Sandefur, Chris Treat
White River Health (WRH) is an independent, not-for-profit healthcare system serving residents throughout North Central Arkansas. White River Health includes White River Medical Center in Batesville, Stone County Medical Center in Mountain View, outpatient facilities, primary care, and specialty physician office practices. WRH is a member of the Premier Alliance, the American Hospital Association, and the Arkansas Hospital Association and licensed by the Arkansas Department of Health.
###
Posted 10/3/2023