White River Health Selects Vice-President Officers
White River Health Selects Vice-President Officers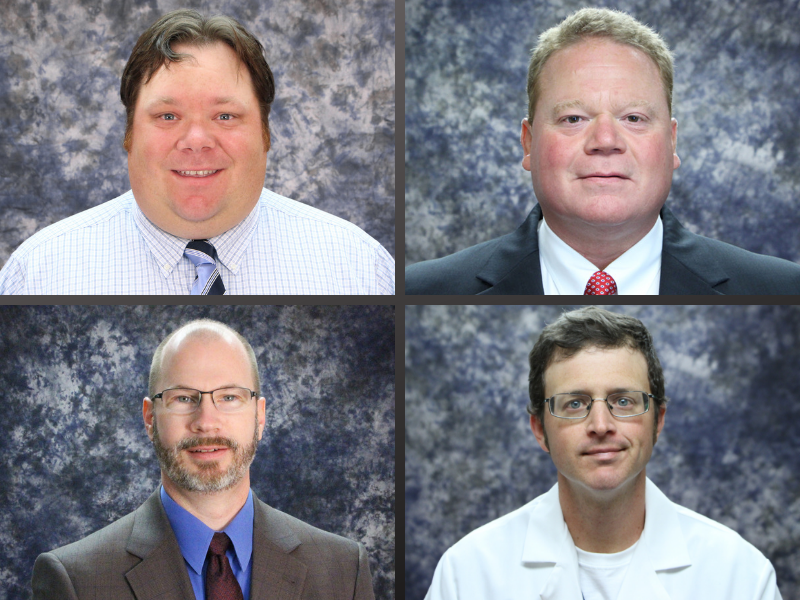 (Batesville, Ark.) – Gary Paxson, President and CEO of White River Health (WRHS), recently announced the selection of four Vice-President (VP) officers within the system. Mr. Paxson selected Lindsey Castleberry as VP of Human Resources & General Counsel; Jeff Reifsteck as Assistant VP & Chief Information Officer; Jody Smotherman as VP of Community Engagement; and Dr. Chris Steel as VP & Chief Quality Officer.
Castleberry oversees legal services, human resources, and physician recruiting. Castleberry joined WRHS in 2015 as the system's in-house legal counsel. A Batesville High School graduate, Castleberry, earned a Bachelor of Science in Business Administration from the Walton College of Business at the University of Arkansas. He earned a Juris Doctorate from the University Of Arkansas School Of Law and was admitted to the Arkansas Bar in 2007.
Reifsteck oversees Information Systems as Assistant VP and Chief Information Officer. Reifsteck began his career at WRHS in May of 2015 as Director of Information Systems. He received his Bachelor of Science in Information Technology and his Master's Degree in Healthcare Administration from Colorado State University.
Smotherman will continue to work with the Graduate Medical Education (GME) Program in addition to Community Engagement, Marketing, and WRHS Volunteer Services/Chaplain. Smotherman has worked within WRHS for over 15 years. Smotherman has served in multiple leadership roles at WRMC including Assistant Director of Pharmacy in 2005, Director of Pharmacy in 2006, Director of Quality and Case Management in 2010, Hospital Medicine Program Director in 2014, and Associate Administrator of GME in 2016. He did his undergraduate studies in Chemistry/Pre-pharmacy at Lyon College, earned a Doctor of Pharmacy from UAMS, and a Masters of Divinity in Biblical Studies from Mid-America Baptist Theological Seminary.
Dr. Steel oversees quality and all medical services including WRMC hospitalist and staff, Primary Care Services, and Outreach Services. Dr. Steel started at WRHS in 2011 as Director of Anesthesia Services. He received his Bachelor of Science in Biology at the University of Arkansas at Fayetteville. He completed his Doctor of Medicine from the American University of the Caribbean. He completed an Anesthesia residency at Penn State University.
"Each of our VP team members play a huge role in the improved culture we are focused on creating for our staff, visitors, and patients," said Gary Paxson. "I am eager to work with each of them, and I know they will do an outstanding job making White River Health the place where employees desire to work, physicians want to practice, and family and visitors feel welcome."
The White River Health team of Vice-President Officers are focused on providing quality healthcare to our patients and improving the health of our communities. In addition to the executives mentioned above, the following individuals continue to fill roles on the leadership team: Dr. Doug Bernard, VP and Chief Medical Officer; Terri Bunch, VP and Chief Nursing Officer; Tammy Gavin, VP of Outreach Services; Kevin Spears, VP and Chief Operating Officer at Stone County Medical Center; and Robert Wright, VP of Primary Care Services. Collectively, each member of the executive team plays a pivotal role in leading our diverse organization.
WRHS is a not-for-profit healthcare system serving residents throughout North Central Arkansas. The system includes hospitals, outpatient facilities, primary care, and specialty physician office practices, and senior life centers. WRHS is a member of the Premier Alliance, the American Hospital Association, and the Arkansas Hospital Association and licensed by the Arkansas Department of Health.
###