White River Health Receives Commitment Award - Governor's Quality Award
White River Health Receives Commitment Award - Governor's Quality Award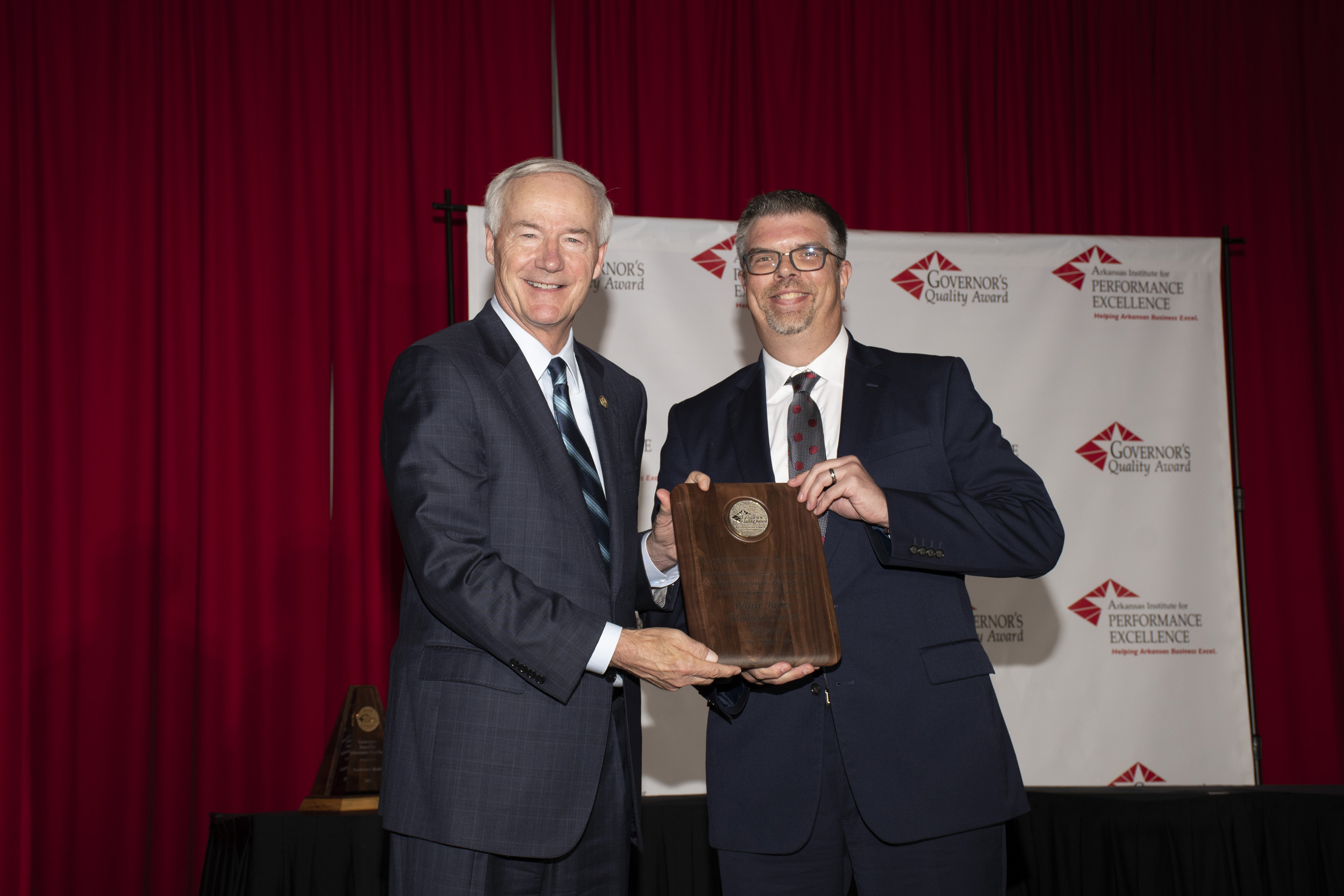 (Batesville, Ark.) – White River Health (WRHS) was recently awarded with an Arkansas Governor's Quality Award during the 27th Annual Awards Celebration. WRHS received the Commitment Award, a level designed for organizations that have progressed to a point of demonstrating serious commitment to the use of quality principles to attain performance excellence. The Commitment Award is the second of four award levels in moving toward the fourth and highest level in the state—the Governor's Quality Award for Performance Excellence.
The award was presented by Governor Asa Hutchinson and Gary Paxson, President and CEO of White River Health, received the reward on behalf of WRHS.
To receive this award level, applications require completion of a key business factors worksheet, an organizational profile, and the signature of the executive leader of the organization indicating their commitment. The application must also include a report of how the organization is applying the seven categories of the award criteria. This award level is presented to organizations that have advanced from initial steps to putting a plan in place to move the organization toward performance excellence.

The award process drives organizations toward quality principles. Organizations self-assess and carefully review the award-level requirements before deciding at which level to apply. In addition to the award recognition, the greatest value for program participants is the in-depth evaluation and written feedback report citing strengths and areas for improvement. Less than 30 Arkansas organizations have received the highest-level, the Governor's Award, for Performance Excellence.
The goal of the program is to encourage Arkansas organizations to engage in continuous quality improvement, which leads to performance excellence. Created as a not-for-profit organization, the program is dedicated to assist in building a strong infrastructure for Arkansas businesses. The award process aligns with the Malcolm Baldrige National Quality award and used the Baldrige Excellence Framework.
The Governor's Quality Award program is coordinated by the Arkansas Institute for Performance Excellence, a nonprofit organization affiliated with the Arkansas State Chamber of Commerce.
# # #