White River Health Radiation Oncology Welcomes Provider
White River Health Radiation Oncology Welcomes Provider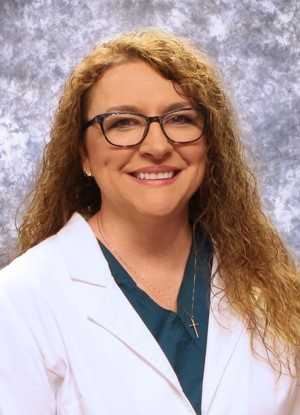 (Batesville, Ark.)— White River Health (WRH) is pleased to welcome Michelle Snow, APRN, MSN, FNP-C, as a provider at White River Health Radiation Oncology.
As a provider, Michelle is focused on caring for patients with breast issues by ensuring patients get recommended mammograms, clinical breast exams, education, genetic testing, and breast biopsies if needed. She also helps patients with referrals to surgeons, and provides continued care to patients with breast cancer or high risk of Breast Cancer.
Michelle has 16 years of healthcare experience at WRH. She began her career as a Licensed Practical Nurse (LPN) in Recoup/Rehab. She then transferred to the Obstetrics (OB) department where she was a Registered Nurse (RN) and Charge Nurse for 10 years and a Clinical Lead for the past five years. During her time in OB, she became a Certified Lactation Counselor.
"After 15 years in labor and delivery, I knew as an APRN, I wanted to continue serving women and their families," said Michelle. "This role allows me the opportunity to serve women of all ages, not just women of childbearing age, as well as men who have breast issues, breast cancer and are in need of genetic testing."
Michelle received her Technical Certificate of Practical Nursing and Associate of Science in Nursing from the University of Arkansas Community College at Batesville. She received her Bachelor in Nursing from Arkansas Tech University. She completed her Masters of Science in Nursing from Arkansas State University. She is certified by the American Association of Nurse Practitioners.
Chelsey Davis, RN, continues to provide care as the Oncology Nurse Navigator for patients at the clinic. Chelsey sees patients through the entire cancer process including biopsies, surgeries, treatment and recovery. She helps ensure cancer patients receive the best possible care, based on their individual needs. As the term navigator suggests, her main role is to help patients navigate the healthcare system throughout their illness. She is available to provide education and support to patients, as well as practical assistance in eliminating certain barriers such as transportation or financial concerns. She serves as a point of contact for patients and collaborates with other care providers to connect patients to a myriad of cancer care services at WRMC and within the community.
"I am honored to join Chelsey and the awesome care team that is committed to providing breast health services to our community," said Michelle. "I am excited to have the opportunity to provide education and clinical and emotional support to patients with breast issues, at high risk for breast cancer, new breast cancer diagnosis, and survivors of Breast Cancer."
Michelle and her husband, Travis, have two adult children: ShaNae and Bradyn. In their free time, they both love to travel, camping, hiking, and being on the water. They also enjoy time spent loving on their 12 year old Boston Terrier, Barkley, and their two grand pups: Leo and Dobby.