White River Health Cherokee Village Recognized for State Record
White River Health Cherokee Village Recognized for State Record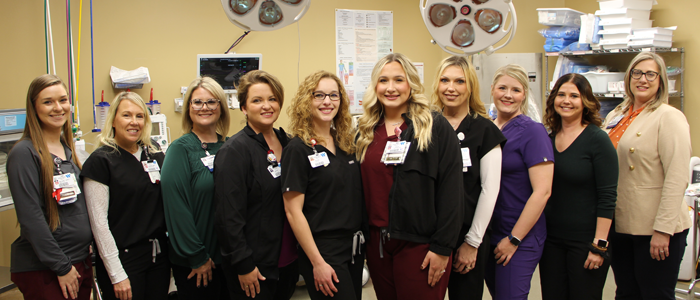 (Cherokee Village, Ark) – UAMS's Institute for Digital Health and Innovation (IDHI) recognized White River Health (WRH) Emergency Services – Cherokee Village for safely administering Tenecteplase (TNK) within a record breaking 15 minutes of a patient's arrival at the ER. TNK is a clot-busting medication that can be given to patients having a stroke within the first four and a half hours of the onset of symptoms. The WRH Cherokee Village ER team was recognized at an event Wednesday, November 15th.
Grace Gurley, RN, and Kelsey Brannon, Radiology Tech, received a report from EMS identifying that a patient was having a stroke. The patient was taken in for a CT scan upon arrival at the facility. Gurley initiated the consultation via telemedicine with a Neurologist and performed a bedside NIH exam. Once the team confirmed that the patient was having a stroke, the Neurologist ordered lifesaving medication. Gurley was given the order to administer TNK. Gurley received IDHI's Gold Nursing Award for her quick actions on behalf of her patient. This award is given to nurses throughout the state of Arkansas for administering TNK within 30 minutes of a patient's arrival at the Emergency Room. In addition, Brannon received a Certificate of Appreciation though the program for her quick response and ability to notify the Radiologist in a timely manner. This award recognizes ancillary staff for their contribution to stroke care. The teamwork and dedication provided by the staff at WRH Emergency Services – Cherokee Village saved a life and set a record for WRH and all Arkansas hospitals participating in the program.
WRH Emergency Departments participate in the IDHI Stroke Program through the state of Arkansas. This program assists in early recognition and treatment of patients experiencing a stroke.
White River Health (WRH) is an independent, not-for-profit healthcare system serving residents throughout North Central Arkansas. White River Health includes White River Medical Center in Batesville, Stone County Medical Center in Mountain View, outpatient facilities, primary care, and specialty physician office practices. WRH is a member of the Premier Alliance, the American Hospital Association, and the Arkansas Hospital Association and licensed by the Arkansas Department of Health.
###
Posted 11/21/2023