Ward sees evolution of healthcare through 50-year career
Ward sees evolution of healthcare through 50-year career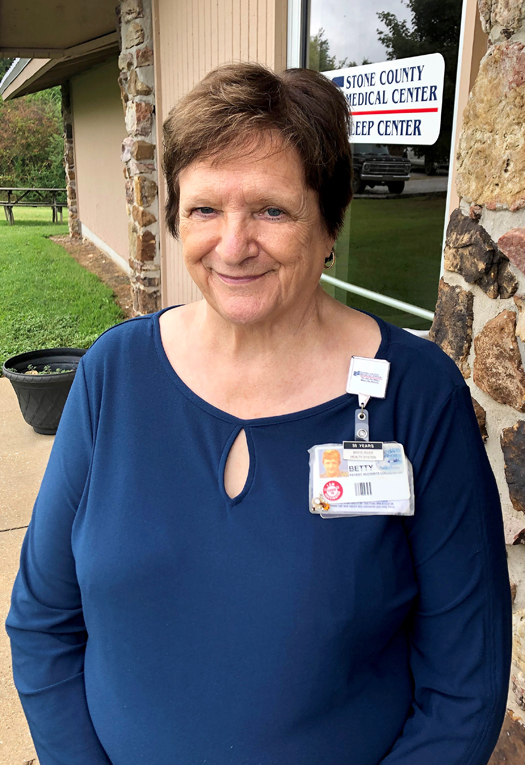 Mountain View, Ark. – On average, employees work for the same employer for four years, according to the U.S. Bureau of Labor Statistics. Betty Ward surpassed that average long ago. Staff members at Stone County Medical Center (SCMC) recently recognized her for 50 years of service to the hospital. Ward is the first employee in the hospital's history to achieve this milestone.
Ward belongs to a group of unsung heroes in healthcare ensuring that patient accounts are handled accurately. During her time at the hospital, she's done everything from billing and filing insurance claims to helping deep clean and tending to flower beds. Throughout her career, she has witnessed technological evolutions and growth in the healthcare industry.
Ward is a native of the rural community of Fifty-Six, Ark. where she learned a solid work ethic from her parents. Ward worked alongside her mother in a general goods and feed store while her father logged timber. She graduated from high school in 1959, and her brother offered to buy her a car if she attended college. However, Ward was ready for the workforce. Shortly after high school, she married her husband, Paul. The couple have two children, a son, Terry, and daughter, Kristy.
Ward's career began in the business office of the Mountain View General Hospital which would later become Stone County Medical Center. Ward's aunt and uncle, John and Rena Harkleroad, were part of the group that created the hospital.
"They started the Old Allen Hospital on Harrison Street in Batesville," Ward said. "When it sold, they helped create the hospital here." Ward recalled the community support to establish the hospital. Numerous fundraisers were held, and residents and business leaders donated to the cause.
Ward began working in the hospital's business office in the mid-60's when Medicare came into effect. She handled patient accounts and billing while her aunt managed payroll. All paperwork was completed by hand. "We made our bills out by hand on scrap pieces of paper," Ward said. "If it was slow, we would deep clean. We washed the walls and base boards."
Ward also filed insurance claims; however, that was a task she had to earn. "John wouldn't let me do insurances at first," she said. "I watched him so much though that I thought, 'I can do one of these.' One day, I did one before he came in and laid it on his desk. When he saw it, he asked what I had done. I asked him if it was right. He looked at it and then folded it up and told me where to address it."
When Stan Townsend purchased the hospital, Ward said business processes were upgraded. "He bought an IBM computer that took up half the room. It helped with payroll, but we still had to type in our labs and X-rays. At that time, we were still doing our bills and patient accounts by hand."
In addition to the evolution of technology, Ward witnessed historical events while working for the hospital. She had just left work on February 5, 2008, when an EF-4 tornado cut a path through Mountain View and directly hitting the hospital. The building was severely damaged with 60% determined a total loss. "I had gone to Walmart after work. My husband called my cell phone and said, 'You better get home.'" Ward made it home safely to ride out the storm.
Temporary modular medical facilities were set up to continue to serve patients after the tornado, and the work of recovering patient files and rebuilding began. Ward said staff worked to dry out files with water damage. Some were lost in the storm. "We had files and X-rays sent back to us from as far away as Missouri," she said. In 2011, a new two-story, 25-bed state-of-the-art-facility opened to serve the Mountain View community.
Of the events she has witnessed over the years, Ward said nothing compares to the COVID-19 pandemic. "I've never seen anything like this in my lifetime, and that's saying something. I wish we could get it cleared up, and things could get back to normal," she said.
Ward said her love of her work and the people she works with are what have kept her in her career for 50 years. "It really doesn't seem like I've been here 50 years," she said. "I enjoy my work. I've always been ready to get up and go to work. I love the people. We are like a family. I had great support from people at the hospital when I lost two brothers seven months apart. They were there for me when my husband had a stroke and was in the hospital. I couldn't ask for better people to work with in my career."