The Children's Clinic 2020 Writing Contest Winners
The Children's Clinic 2020 Writing Contest Winners
The Children's Clinic in Batesville announced the winners of its second Annual Writing Contest. Children were encouraged to write a story using one of the following topics, A Favorite Holiday Memory, When I Grow Up, or I Remember When.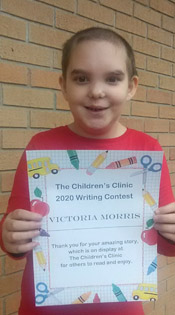 Victoria Morris Paiton Turner Christian Marks
Contest winners include Victoria Morris, age eight; Paiton Turner, age nine; and Christian Marks, age 10. Winners received $25 gift certificate to Paper Chase Book Store, a writing tablet, a book, and a toy. The Children's Clinic is located at 1700 Harrison Street, Suite N in Batesville and is open Monday through Friday from 8am to 5pm. Appointments are available in-person and using telemedicine. To make an appointment, call (870) 262-2200.

Posted January 14, 2021