Surgeons and Robot Partner to Stop Knee Pain
Surgeons and Robot Partner to Stop Knee Pain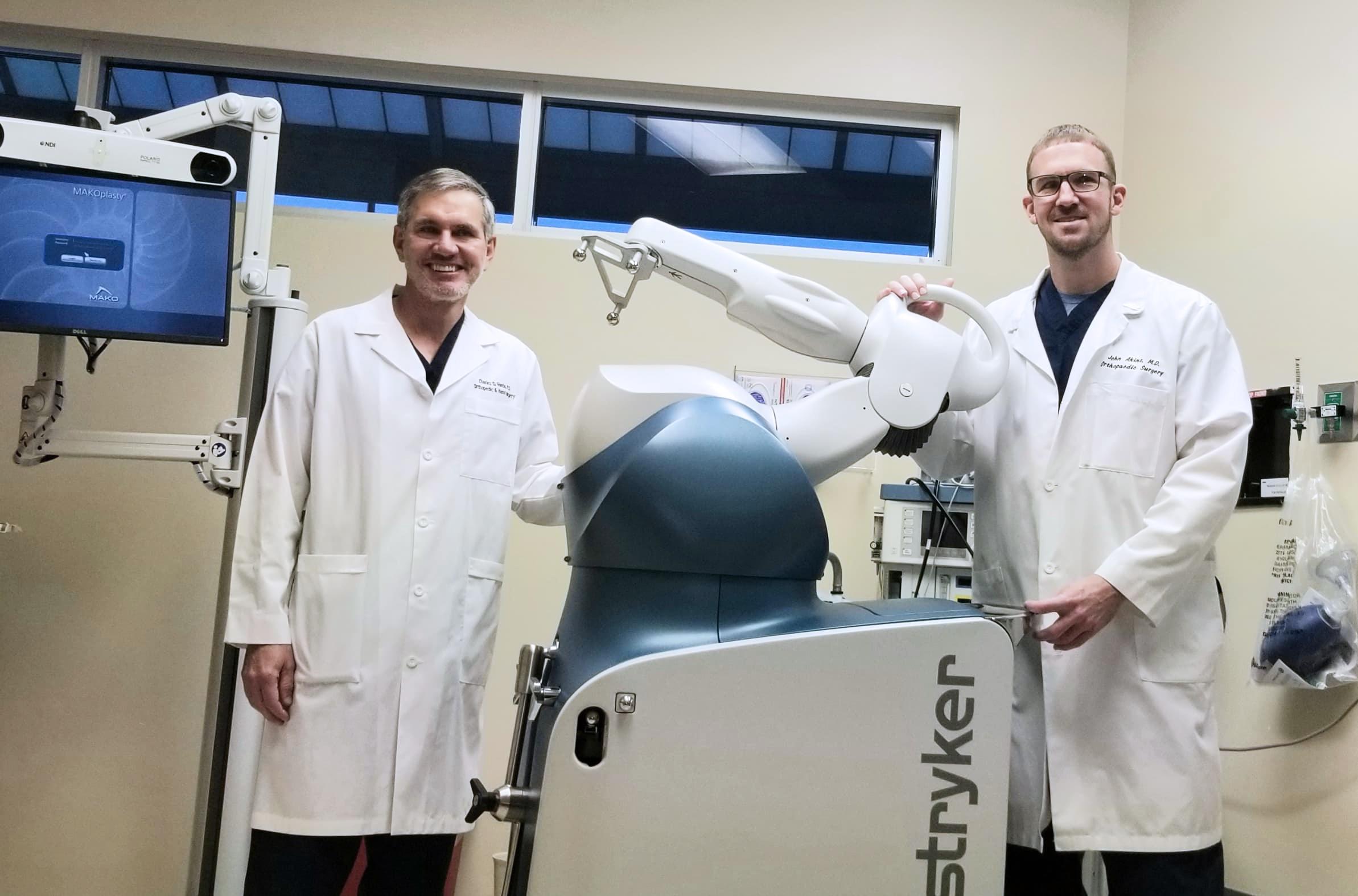 (Mountain View, Ark) – Kevin Spears, Chief Operating Officer (COO) at Stone County Medical Center (SCMC), recently announced that SCMC will be offering robotic-arm assisted total knee replacements with Stryker's Mako System.
Procedures are projected to start in mid-January. SCMC is the first hospital in Arkansas of its size to provide this highly advanced technology. SCMC is a 24-bed critical access hospital located in Mountain View, and an affiliate of White River Health (WRHS).
The demand for joint replacements is expected to rise in the next decade. Total knee replacements in the United States are estimated to increase by 673 percent. The system changes the way joint replacements surgeries are performed, creating a more precise surgical experience and increased accuracy during every procedure. All of which leads to better recovery for our patients.
The Mako Total Knee application is a treatment option designed to relieve the pain caused by joint degeneration due to osteoarthritis. Through CT-based 3D modeling of bone anatomy, surgeons can use the Mako System to create a personalized surgical plan and identify the implant size, orientation and alignment based on each patient's unique anatomy. The Mako System also enables surgeons to virtually modify the surgical plan intra-operatively and assists the surgeon in executing bone resections.
"SCMC is the only critical access hospital and only one of seven hospitals in Arkansas to offer this technology," said Spears. "We are eager to make Mountain View a destination for this innovative technology."
Dr. John Akins practices at theWhite River Orthopaedic & Sports Medicine Clinic in Mountain View. He also travels to Calico Rock, Melbourne, Salem, and Cherokee Village to see patients. Dr. Charles Varela practices at Ozark Orthopaedic & Hand Surgery Center. Both Dr. Akins' and Dr. Varela's main offices are located at 2110 East Main Street in Mountain View. Their offices are open Monday through Friday from 8AM to 4:30PM. To schedule an appointment, call 870-269-8300.
The MAKO robotic – arm assisted technology was introduced to WRHS in 2018 through its implementation at White River Medical Center (WRMC). WRHS Orthopaedic Surgeons J.D. Allen, Jeff Angel, Dylan Carpenter, and Wesley Greer perform Mako Robotic surgeries at WRMC in Batesville. For more information about their practice, call 870-793-2371 .
White River Health is a not-for-profit healthcare system serving residents throughout North Central Arkansas. The system includes White River Medical Center in Batesville, Stone County Medical Center in Mountain View, outpatient facilities, primary care and specialty physician office practices, and senior life centers. WRHS is a member of the Premier Alliance, the American Hospital Association, and the Arkansas Hospital Association and licensed by the Arkansas Department of Health.
###