Students Receive Explorer Post Scholarship
Students Receive Explorer Post Scholarship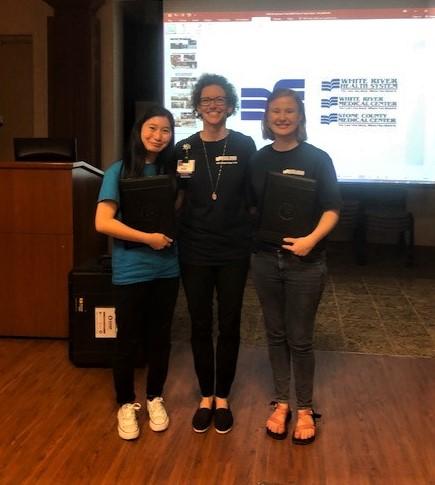 Maggie Williams, Pharmacy Director at White River Medical Center (WRMC), recently presented the Explorer Post Scholarship to Explorer Post students Kim Ho and Emma Russell. Both students are upcoming seniors at Batesville High School.
Explorer Post 1710 provided the students in the program the ability to learn about a variety of healthcare careers and make a more educated decision for their future. Since she was a young girl, Explorer Post 1710 student and scholarship recipient, Kim Ho, knew she wanted to make a difference in the lives of others through the medical field. Her experience in the Explorer Post 1710 helped her realize a career in the medical field is the right choice for her. Student, and scholarship recipient, Emma Russell, discovered a passion in nursing through her time in the Explorer Post 1710. As she researched career options, she discovered nursing was one of the number one careers that was service oriented and empathetic toward others.
Career-specific Explorer Posts connect young people with professionals and business resources to create a program of experiences to teach character, leadership, and life skills. The Explorer Post 1710 provided students with experiences and mentorship in an effort to encourage interest in healthcare careers. During the program, students are exposed to various aspects of healthcare such as emergency medicine, occupational therapy, orthopaedic surgery, oncology, pharmacy, physical therapy, and stroke care.
"I have thoroughly enjoyed the Explorer Post this year," said Emma Russell. "It has broadened my knowledge of career opportunities and helped me understand that commitment and hard work is essential to a successful career in the medical field."
Explorer Post 1710 is sponsored by White River Health (WRHS) and the Boy Scouts of America. The group includes more than 50 students ages 14 to 20 from Independence county and the surrounding area. As the post sponsor, WRHS provides supplies and WRHS healthcare professionals volunteer their time to provide a hands-on, interactive learning experience.
"Through Explorer Post, I have had the pleasure of exploring the many diverse healthcare professions," said Kim.
The Explorer Post students met every other Thursday during the school year. For more information regarding the Explorer Post, students should contact their guidance counselor or Maggie Williams at