Orthopaedic Clinic Holds Groundbreaking Ceremony
Orthopaedic Clinic Holds Groundbreaking Ceremony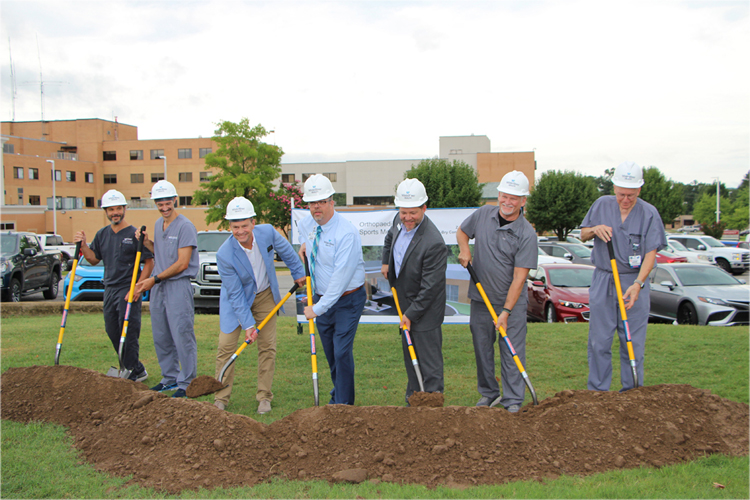 (Batesville – Ark.) – White River Health (WRH) hosted a Groundbreaking Ceremony for a new facility dedicated to continuing orthopaedic excellence at White River Health Orthopaedic & Sports Medicine, previously known as WRMC Orthopaedic and Sports Medicine Clinic. The new facility is being constructed on the White River Medical Center campus on what is currently the walking track. Site preparation work is scheduled to begin immediately, and construction is expected to be completed in the spring of 2023. The general contractor, Wil-Bry Construction plans to use Sidney Street to access the construction site, minimizing the disruption to drivers on Harrison Street.
The new orthopaedic facility will be 15,000 square feet to comfortably meet the needs of patients and space to allow providers and their teams to work more effectively. The practices of Drs. J.D. Allen, Jeff Angel, Dylan Carpenter, and Wesley Greer will be relocated to the new facility. The clinic number will remain the same.
The project is a part of WRH 's strategy to become an Orthopaedic Center of Excellence. This designation is obtained by achieving certification in at least three of four orthopaedic service line programs. DNV Healthcare sets the requirements for this designation based on the guidelines, recommendations and best practices recognized by the American Academy of Orthopaedic Surgeons.
White River Health Orthopaedic & Sports Medicine is a facility of White River Health (WRH). WRH remains an independent, not-for-profit healthcare system serving residents throughout North Central Arkansas. The system includes hospitals, outpatient facilities, primary care and specialty physician office practices, and Senior Life Centers. WRH is a member of the Premier Alliance, the American Hospital Association, and the Arkansas Hospital Association and licensed by the Arkansas Department of Health.