New Physician Provides Confident Care
New Physician Provides Confident Care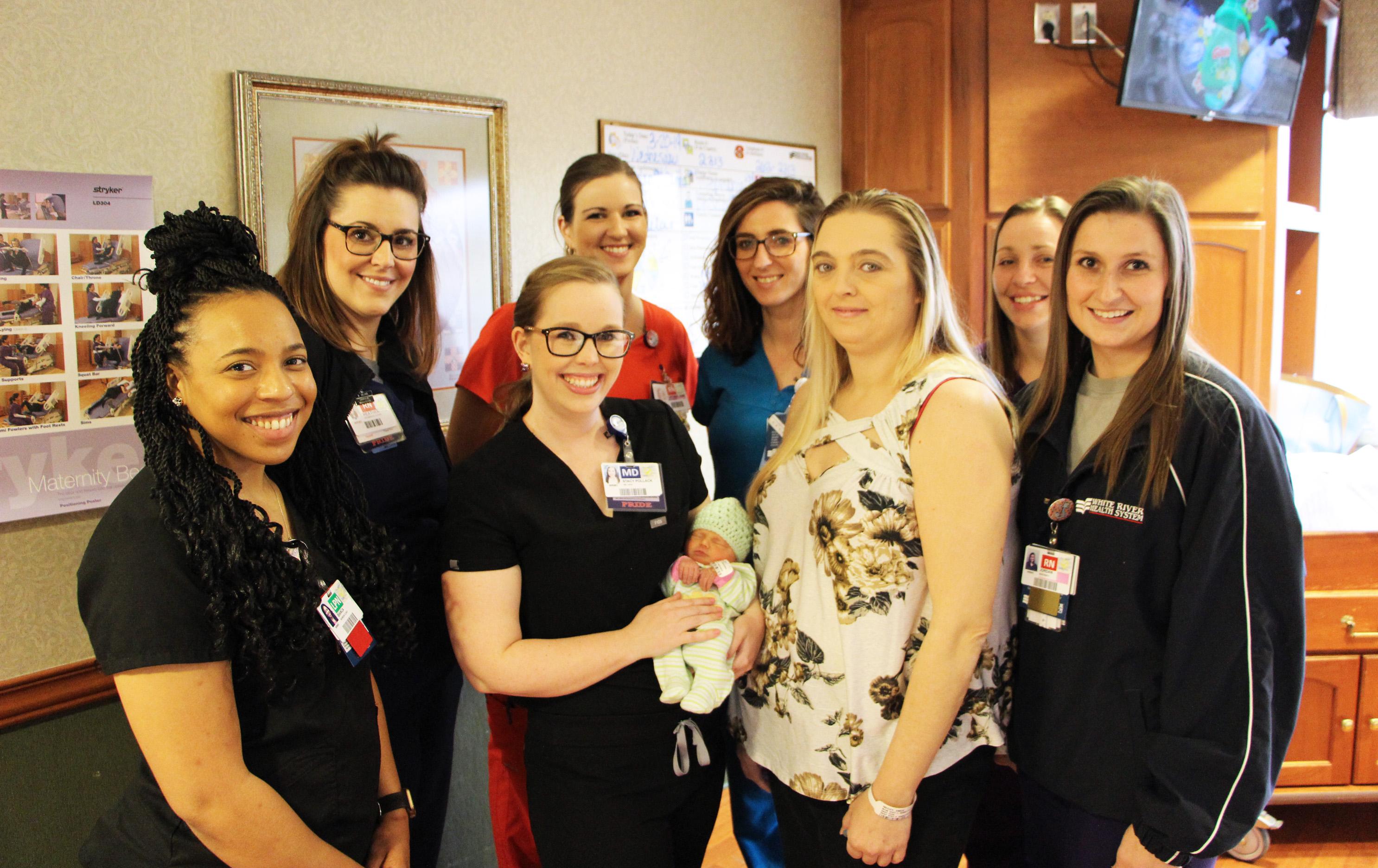 (Batesville, Ark.) – When Angie McCoy found out she was pregnant for the fourth time, she wasn't sure how to react. As a mother of three already, she had been through the process before; however, this time it was a little different. After living out of state for a while, Angie returned to her hometown of Cave City. Having been home just a short time, she had not had a chance to look into Obstetrics/Gynecology (OB/GYN) care yet.
She didn't know it at the time, but she would be very grateful for the recommendation to see Dr. Stacy Pollack at The Women's Clinic for her care. Dr. Pollack had only been at The Women's Clinic, a clinic of White River Health, a little over a month, and she was already leaving lasting impressions on those she cared for. Angie's case in particular would be one to share with others as a testament of Dr. Pollack's care.
Angie learned early on in her pregnancy that she had fetal growth restrictions, as well as preeclampsia. Growth restrictions meant that the baby was unable to grow at a normal rate. Preeclampsia would keep Angie's blood pressure high throughout the pregnancy, creating additional complications. Both diagnoses were working against her and putting her and her baby at high risk. Angie visited Dr. Pollack every other week throughout her pregnancy to ensure everything was going well. "I practically lived at the doctor's office," said Angie.
One thing that surprised Angie the most was her ability to stay in Batesville rather than travel to a larger hospital during her high-risk pregnancy. "I only had to travel to Little Rock one time," said Angie. "All other appointments were conducted through Telemedicine at The Women's Clinic in Batesville."
Through Telemedicine, providers can assess and treat a patient through a webcam, changing how healthcare is provided. Due to Angie's circumstance, telemedicine was recommended by Dr. Pollack. "It was awesome to have additional healthcare professionals review my case and reassure me about my pregnancy," said Angie. "This technology saved the cost of travel and allowed me to stay close to family and friends."
"Angie is a great example of a high risk patient who was able to access high quality OB care close to home," said Dr. Pollack. "We were excited to pull all our resources together to deliver this perfect, healthy baby girl." Angie was 35 weeks along when she brought her beautiful baby girl, Kylie AnnMarie, into the world. Despite all the risks she experienced during pregnancy, she had a smooth delivery at White River Medical Center with few complications. Kylie weighed 4lbs and 3.4ozs and was 16.75 inches long. She was very strong and only had to stay on oxygen for one night. "I am so thankful for the constant care I received from Dr. Pollack and the staff at The Women's Clinic and White River Medical Center. I had full confidence in them all," said Angie. "Dr. Pollack and her staff were always there to listen and to meet my needs. Because of them, I was able to stay in Batesville throughout my pregnancy and my delivery."
Kylie's older siblings anxiously awaited her arrival at home. Her sister, age 17, and brothers, age 5 and 4, had been excited to meet her since the day they heard the news. They are all prepared to take on their new roles and help as much as possible. Kylie and her mom were able to go home after only three days in the hospital. Angie was extremely grateful to bring her healthy baby girl home to meet her siblings and to be able to travel a short distance to get there.
###