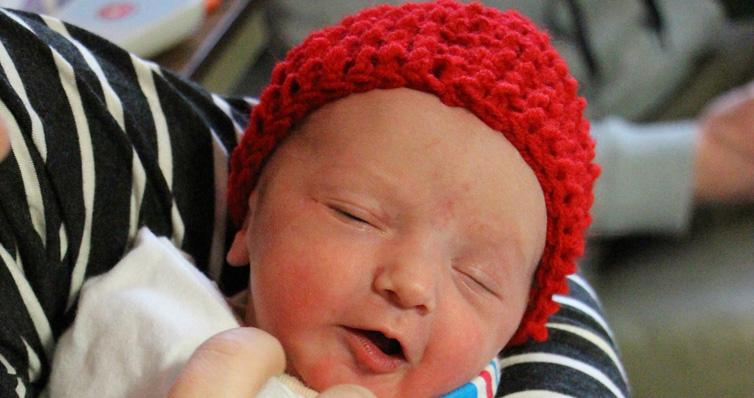 At White River Medical Center (WRMC), Baby Girl Athalia James Cox received the first red hat from the Little Hats, Big Hearts Campaign of the American Heart Association (AHA). Every baby born at WRMC in February will receive a hand-knitted red hat to raise awareness for heart disease, the number one killer of adults in America, and congenital heart defects, the most common type of birth defect.
"We are proud to collaborate with the American Heart Association in support of those who are affected by Heart Disease," said Gary Paxson, CEO of White River Health. "I want to also thank all our volunteers who dedicated time to knit some of the hats that will be provided during February."
The Little Hats, Big Hearts program was designed by the American Heart Association in collaboration with The Children's Heart Foundation to inform parents and families of the importance of heart health. The hats serve to remind parents to live heart healthy lives and to help their children do the same. In addition to the precious newborns receiving a red hat, parents will also receive information pertinent for the heart health of themselves and their bundle of joy.
About the American Heart Association and American Stroke Association The American Heart Association and the American Stroke Association are devoted to saving people from heart disease and stroke – the two leading causes of death in the world. The American Heart Association teams with millions of volunteers to fund innovative research, fight for stronger public health policies, and provide lifesaving tools and information to prevent and treat these diseases. The Dallas-based American Heart Association is the nation's oldest and largest voluntary organization dedicated to fighting heart disease and stroke. The American Stroke Association is a division of the American Heart Association. To learn more or to get involved, call 1-501-707-6600, visit heart.org or call any of our offices around the country. Follow us on Facebook and Twitter.
About The Children's Heart Foundation Established by Betsy Peterson in 1996, The Children's Heart Foundation (CHF) is the country's leading national organization solely committed to congenital heart research funding. CHF is a national 501(c)(3) tax?exempt charitable organization, whose mission is to fund the most promising research to advance the diagnosis, treatment and prevention of congenital heart defects. Since 1996, CHF has funded millions of dollars of research across the U.S. and Canada. For more information, please visit: www.childrensheartfoundation.org. Follow us on Facebook and Twitter.
About White River Medical Center WRMC is a 224-bed regional referral center and the flagship facility of White River Health. (WRHS) is a not-for-profit healthcare system serving residents throughout North Central Arkansas. The system includes hospitals, outpatient facilities, primary care and specialty physician office practices, and senior life centers. WRHS is a member of the Premier Alliance, the American Hospital Association, and the Arkansas Hospital Association and licensed by the Arkansas Department of Health.