New Provider Announced at the Children's Clinic
New Provider Announced at the Children's Clinic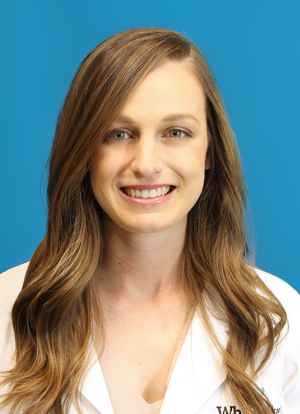 (Batesville, Ark.)—Katie Webb, APRN, is accepting patients at White River Health Children's Clinic located at 1700 Harrison Street, Suite N in Batesville. Katie is working alongside Drs. Melody Moody, and Amanda Smith and Tyler Sandlin, APRN.
As an APRN at White River Health Pediatrics, Katie is focusing on treatment of sick patients from infancy to young adulthood. She offers appointments scheduled in advance and same-day appointments. She is focused on treating residents in Batesville and surrounding areas, as well as maintaining direct communication with her patients and the healthcare community.
Katie completed a Bachelor of Science in Nursing from Arkansas State University. She completed a Master of Science in Nursing from Chamberlain University.
Katie found her calling to become a nurse during high school after her grandpa had an accident that almost cost him his life. However, because of the amazing nurses and healthcare staff, her grandpa survived and shared 13 additional years with his family. This experience led Katie to pursue nursing.
Katie started her career in healthcare as an LPN working in nursing homes and urgent care. After becoming an RN, she focused in on pediatric care with Cardiovascular ICU experience. She worked in the infant toddler unit caring for patients from newborn to three years of age.
"One thing I loved about Cardiovascular ICU is the relationship you build with the patients and families because of the amount of time you spend with them. I loved watching the kids grow-up and seeing where they started and being there through thick and thin with them," said Katie. "In this role I will be able to do the same, and help them grow into young adults. My goal for my career to have the reputation of being compassionate and caring, that parents and caregivers know their child is not just a number or diagnosis."
During her time working with children, Katie was nominated for a Daisy Award three times. A Daisy Award is given to a nurse monthly or quarterly based on criteria established through a hospital's mission and values.
"Being a mother myself, there is nothing more precious to me than my children," said Katie. "I understand the level of trust families are giving me and I do not take that for granted."
Katie and her husband have two sons and lots of chickens. She is from Wilburn, AR. In her spare time, she loves all things outdoors including mowing and days at the lake. She also enjoys cooking and baking.
White River Health Children's Clinic is open Monday thru Friday from 8am-5pm. To make an appointment with Katie, call (870) 262-2200.