Dr. Allgood to Retire, Dr. Ko Welcomed
Dr. Allgood to Retire, Dr. Ko Welcomed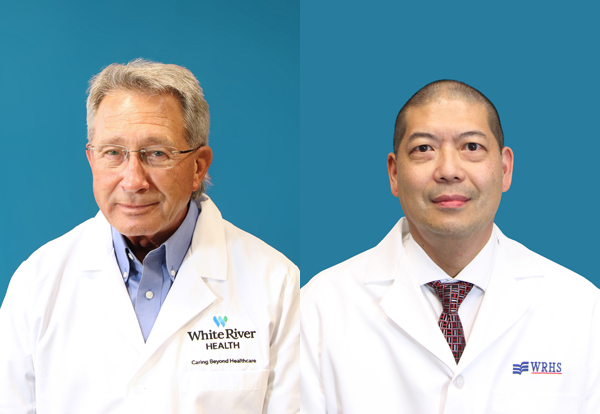 (Batesville, Ark.) –Dr. John Allgood, Radiation Oncologist at White River Health, has announced his plans for retirement. As a Radiation Oncologist, he has dedicated his practice to specializing treatment plans for patients based on their individual needs. He is currently in practice at White River Health Cancer Center, previously known as WRMC Cancer Care Center.
Dr. Allgood has been practicing as a Radiation Oncologist for 22 years. Prior to his career as a physician, Dr. Allgood served in the Navy and then went on to become a Physical Therapist (PT). He worked as a PT for several years before going to medical school.
A retirement reception will be held on January 12, 2023 from 2PM to 4PM in the White River Medical Center Conference Rooms. The event is open to the public.
Dr. Allgood will continue seeing patients until the end of the year. Dr. Stephen Ko, Radiation Oncologist, will begin seeing patients at White River Health Cancer Center at the beginning of 2023. Patients established at the clinic do not need to take further action to transfer care. Dr. Allgood will remain at the clinic to assist Dr. Ko during the transition.
Dr. Ko has over 15 years of experience as a Radiation Oncologist working at the Mayo Clinic in Jacksonville, Florida. Dr. Ko attended the Biology Program at the University of Texas at Austin. He completed his Doctor of Medicine at the University of Texas Health Science Center at San Antonio. He completed an internship in the Department of Medicine at the University Hospital and Veterans Administration Hospital. His Residency was completed in the Department of Radiation Oncology at Irvine Medical Center at Irvine, CA. Dr. Ko is Board Certified in Radiation Oncology by the American Board of Radiology.
The White River Health Cancer Center is located at 525 Virginia Drive in Batesville. The clinic is open Monday through Thursday from 8AM to 5PM and Friday from 8AM to Noon. For more information or to make an appointment, call (870) 262-6200.