Doctors Partner with Robot to Create Better Surgical Experience
Doctors Partner with Robot to Create Better Surgical Experience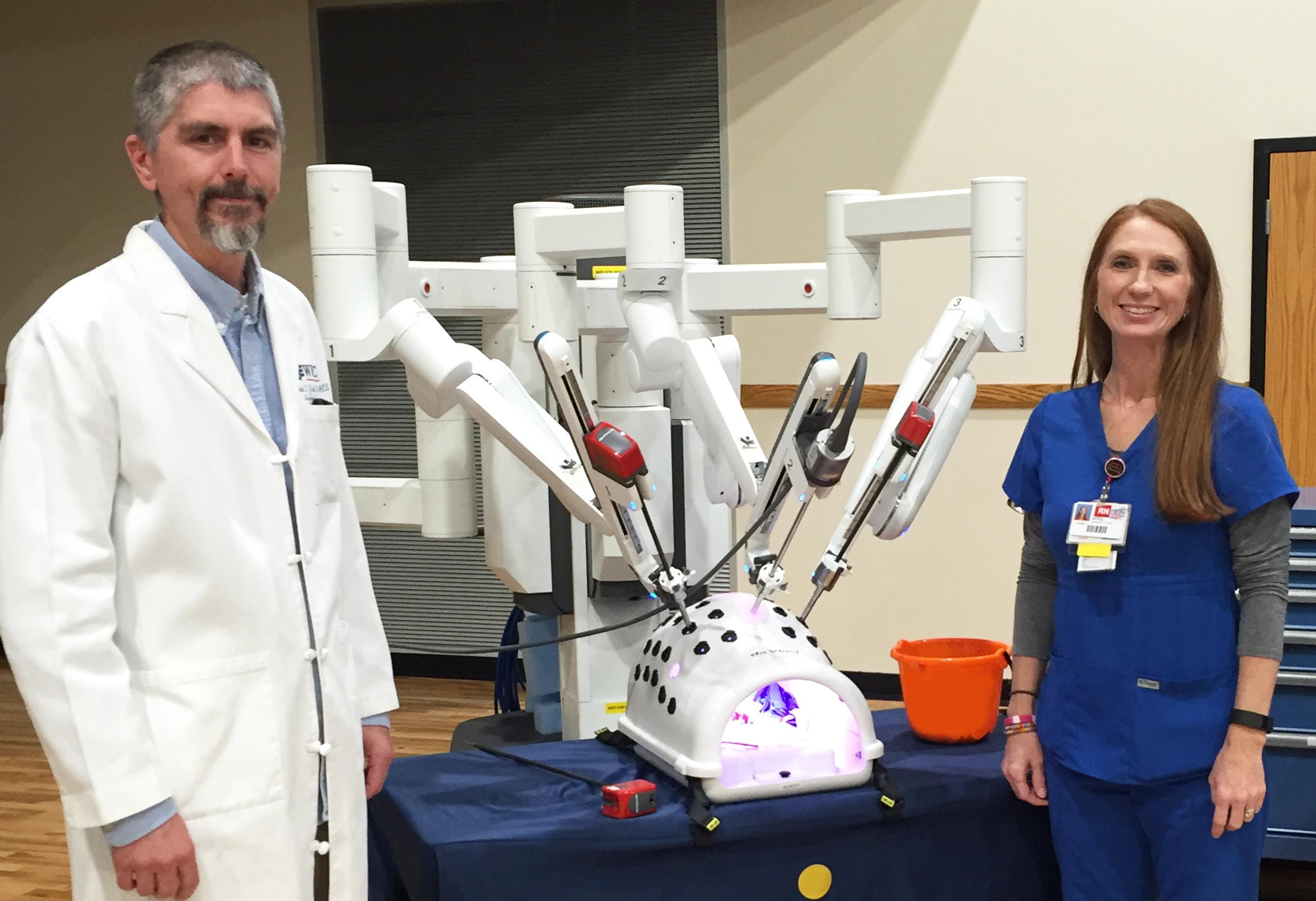 (Batesville, AR)- White River Medical Center (WRMC) is using robotic assisted surgery to change the way thoracic surgery is performed. Dr. David Yarnell, General Surgeon at the WRMC Surgery Clinic in Batesville; and Dr. Jay R. Jeffrey, Independent General Surgeon, are certified to perform robotic assisted thoracic surgery and other general surgery procedures using the da Vinci X Robotic System.
The da Vinci X Surgical System enables surgeons to perform delicate and complex operations through small incisions rather than performing open chest surgery. Key components of the system include: precision guidance with wristed instrumentation, a lightweight endoscope, and 3D optics that allow surgeons to see the surgical area clearly as they operate the device. This advanced technique leads to shorter hospital stays, less post-operative pain, and quicker return to normal activities.
According to davincisurgery.com, thoracic conditions involve areas in the chest such as lungs, esophagus, trachea, ribs, muscles and tissue, and membranes that line the chest cavity. Conditions of the chest include gastroesophageal reflux disease (GERD), lung disease such as chronic obstructive pulmonary disease (COPD), benign tumors, lung cancer, trauma-related injuries, hernias, etc. Cancer and other diseases where symptoms do not ease after lifestyle changes and/or medication can result in surgery.
Dr. Yarnell's practice is located at 501 Virginia Drive, Suite A in Batesville. The clinic is open Monday through Thursday from 8:30AM to 5PM and Friday from 8:30AM to 2PM. For more information on thoracic surgery, or to schedule an appointment, call 870-698-1846 . Dr. Jeffrey's practice is located at 253 Virginia Drive in Batesville. To schedule an appointment, call 870-569-8179.
WRMC is a 224-bed regional referral center and the flagship facility of White River Health (WRHS). WRHS is a not-for-profit healthcare system serving residents throughout North Central Arkansas. The system includes hospitals, outpatient facilities, primary care and specialty physician office practices, and senior life centers. WRHS is a member of the Premier Alliance, the American Hospital Association, and the Arkansas Hospital Association and licensed by the Arkansas Department of Health.
-30-