Dick Bernard Awarded for 20 Years of Service
Dick Bernard Awarded for 20 Years of Service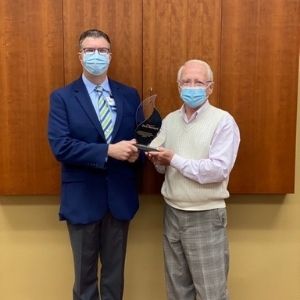 Gary Paxson, President & CEO of White River Health (WRHS), and the WRHS Foundation (WRHSF) Board of Trustees, recently honored Dick Bernard, President of the WRHS Foundation Board of Trustees, with a plaque for his 20 years of service. He will continue to serve as the Past President on the Foundation Board of Trustees.
"We could not be more grateful for Dick's time and dedication to improving healthcare in our communities," said Gary Paxson. "His support during his time as WRHS Foundation President has led to positive outcomes for many people, whether they are employees of WRHS, patients of WRHS, or students dreaming of becoming a nurse. "
During his 20 years of service, the WRHS Foundation raised approximately $20M to benefit services, scholarships, and new technology.
"I am proud that I was able to serve our local healthcare facility through the WRHS Foundation," said Dick. "The WRHS Foundation's impact could not be what it is without the WRHS Board of Trustees, employee giving, the Auxiliary, our local business contributions, and many individuals in our communities."
Dick Bernard believes that every donation, big or small, can make a huge difference. Each gift is contributing to creating a better place to work and receive care - all close to home. WRHS is a not-for-profit healthcare system serving residents throughout North Central Arkansas. The system includes hospitals, outpatient facilities, primary care and specialty physician office practices, and senior life centers. WRHS is a member of the Premier Alliance, the American Hospital Association, and the Arkansas Hospital Association and licensed by the Arkansas Department of Health.