Cardiac Electrophysiologist Performs Heart Surgery
Cardiac Electrophysiologist Performs Heart Surgery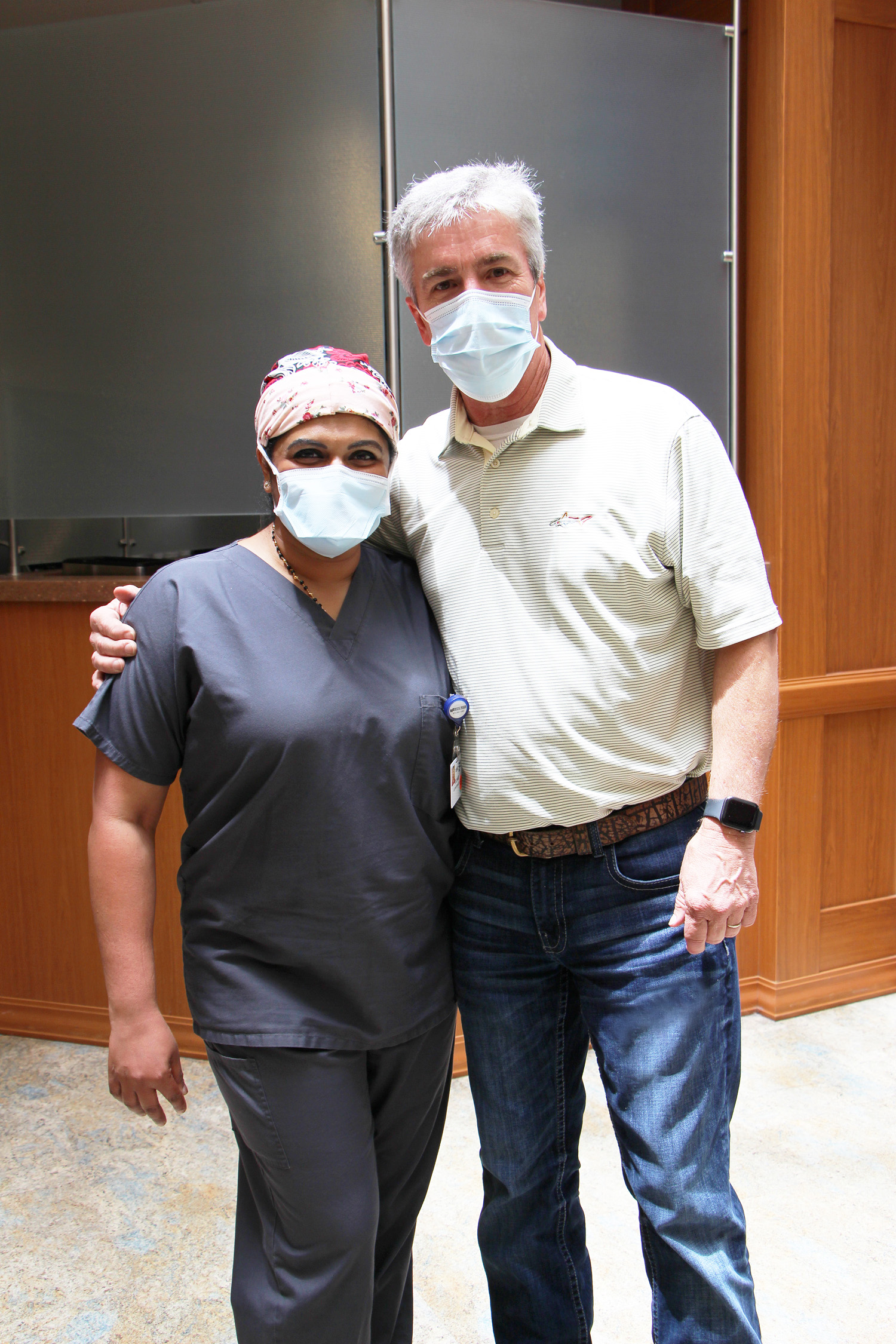 Dr. Devi Nair, Electrophysiologist, is achieving feats, by being the first in the United States to perform a new hybrid procedure to treat Atrial Fibrillation (AFib). One patient cannot be more grateful.
Richard Sparks, Salesman at Future Fuel for over 40 years and volunteer Chaplain at White River Medical Center (WRMC), eagerly walked through his experience.
Richard is an outdoorsman, eager for adventure. He has always had a healthy lifestyle and had never had any health issues until last November. He ended up in the ER because of a blood clot in his kidney from being in Afib. This means his heart's upper chambers were beating out of rhythm with the lower chambers. This condition cannot only cause blood clots, but even strokes and heart failure.
During his ER visit, he met with Dr. Roger Hill, Cardiologist. Dr. Hill explained that when it comes to heart functions, "I am a plumber, but what you need is an electrician." A cardiologist is focused on the heart and blood vessels while an electrophysiologist treats heart rhythm disorders and the electric system of the heart. In layman's terms, they can be described as plumbers and electricians for the heart.
Dr. Nair was the physician for the job. She performed a cardio version that helped Richard's heart get in rhythm again and then scheduled him for an ablation procedure that would be performed in July.
"This alone should have had me scared," said Richard. "But just from short interactions with Dr. Nair and her staff through volunteering as a chaplain, I knew I was in good hands."
Dr. Nair had Richard continue with medication until she performed the new procedure. Up to the time of his surgery, she built a personal relationship with Richard, helping him feel even more confident that he was in good hands.
"Being a salesman has taught me the importance of a relationship," said Richard. "Dr. Nair would personally call me to keep me up to date on the procedure and to answer any questions I may have. That meant so much to me. She never made me feel like just another patient."
Richard knew he was in good hands, but with a procedure this big, he wanted a second opinion and sought a physician out of town. During his visit, he knew he was already where he needed to be.
"After explaining that I was currently seeing Dr. Nair and that I was here for a second opinion, the doctor looked confused," said Richard. "He quickly explained that, while he is skilled in this field, Dr. Nair has more experience with this type of procedure than himself. He said he wouldn't suggest going to anyone else."
Richard was astonished to know that another physician would humble himself and recommend another Cardiologist for this.
"Her name carries a lot of weight," said Richard. "Patients, staff, and providers alike speak of her amazing reputation."
Right before going back for surgery, Richard felt compelled to tell Dr. Nair that he was praying for her. Without hesitation, she explained that her two sons were praying for him. Dr. Nair had mentioned that she was going to perform a new surgery on one of her patients and they immediately wanted to pray all would go well.
"There are no coincidences," said Richard. "God puts the right people in your path for a reason. Dr. Nair was a God send."
The procedure went perfectly, and Richard lives his life like normal, except now hugs his wife, kids, and grandchildren a little tighter. He first gives thanks to God for protection and then gives his thanks to Dr. Nair for her lifesaving care.
"I have been fortunate to spend the last year getting to know and spiritually care for staff members at WRMC but, in this moment, I had needed someone to take care of me," said Richard. "She did just that."
Richard could not be more complimentary of Dr. Nair for all she had done for him. He explained that while he was the first to undergo this new surgery with Dr. Nair, he was not the first patient to come to know that Dr. Nair is an extremely great person.
"It is truly amazing to have such a prestigious doctor available here in Batesville," said Richard. "She is a blessing to me, White River Medical Center, and this community."
###
Thank you!
Jerrika Davis
Jerrika Davis
White River Health