2022 White River Health Employees of the Year
2022 White River Health Employees of the Year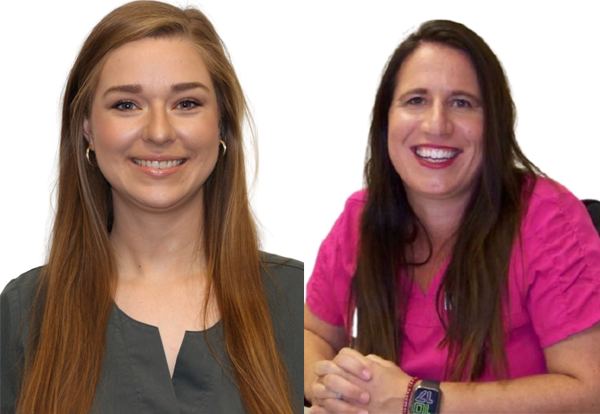 (Batesville, Ark) -- (Batesville, Ark.) – White River Health (WRH) announced the selection of the 2022 Employee of the Year for White River Medical Center (WRMC) and Stone County Medical Center (SCMC), Bethany Huffman, RN, and Melissa Reny, RN. Both individuals represent WRH by exhibiting PRIDE (Personal Responsibility in Delivering Excellence) Standards. PRIDE standards are the guiding principles of customer service for WRH System facilities. The Employee of the Year is chosen by WRH employees, and the nominees are those who were chosen as Employees of the Month in 2022.
Huffman began working at White River Medical Center in July of 2016 in the Emergency Department. She currently serves as the Emergency Department Clinical Lead. In her personal time, she enjoys spending time with her husband, Jake, daughter, Josie, and their three dogs, Fenway, Quincy, and Coach. Huffman and her family enjoy spending time outdoors, gardening, and completing home projects.
Reny joined the staff of Stone County Medical Center in 2015. She has served in various roles, ranging from PRN to RN in Outpatient Infection Prevention. She currently serves in Infection Prevention, Employee Health and Quality. Reny enjoys spending her free time outside on her family farm, as well as fishing, boating, and taking walks. She has a love of animals, including her two dogs, Millie and Daisy, and one cat, Bobbie. Reny's family includes her husband, Jason, and daughter, Gracie.
The WRH Employees of the Month are nominated by their peers for best demonstrating a PRIDE standard. The PRIDE standards are Prompt Service, Respect, Involved, Demeanor, and Environmental Focus.
WRH is a not-for-profit healthcare system serving residents throughout North Central Arkansas. The system includes White River Medical Center (WRMC) in Batesville, Stone County Medical Center (SCMC) in Mountain View, outpatient facilities, primary care facilities, and specialty physician office practices. WRH is a member of the Premier Alliance, the American Hospital Association, and the Arkansas Hospital Association and licensed by the Arkansas Department of Health.
###
Posted 7/24/2023