At Stone County Medical Center (SCMC), board certified and fellowship-trained orthopaedic surgeons provide patient-centered treatment for most orthopaedic conditions including complex hand injuries, fractures, sports injuries, robotic-arm assisted total knee replacement, and traditional joint replacement. With specialized training in hand and upper extremity care, and sports medicine, our surgeons offer orthopaedic services typically available in larger healthcare facilities. For more information about Orthopaedic Services, please call (870)269-8300.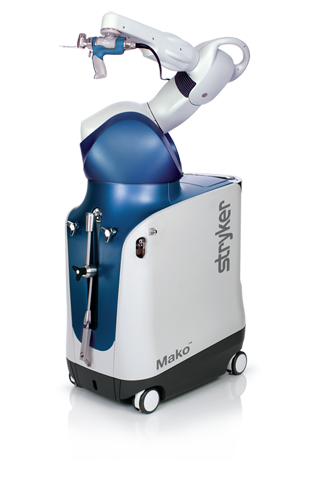 Orthopaedic Physicians at Stone County Medical Center
Mako robotic-arm assisted technology with the Triathlon Total Knee implant is transforming the way joint replacement surgeries are performed. Mako technology allows surgeons to provide a personalized surgical experience based on each patient's specific diagnosis and unique anatomy.
It is important to understand the meaning of robotic-arm assisted surgery. Before surgery, the orthopaedic surgeon uses the Mako system software to plan the procedure. During surgery, the surgeon guides the robotic-arm to remove diseased bone and cartilage according to the surgical plan. Then the surgeon inserts the Triathlon Total Knee implant.
Conditions Treated by Orthopaedic Specialists
Arthritis
Basilar (Thumb) Arthritis
Bursitis
Carpal Tunnel Syndrome
Cubital Tunnel Syndrome
deQuervain's Tendonitis
Extensor Tendon Injuries
Fractures
Flexor Tendon Injuries
Ganglion Cysts
Osteoporosis
Shoulder Pain
Sprain
Sports Injuries
Stress Fractures
Tendonitis
Trigger Finger
Bone and Joint Procedures
ACL/MCL Ligament Repair
Arthroscopic Joint Surgery - Knee, Shoulder
Carpal Tunnel Surgery
Fracture Repair
Hand and Upper Extremity Surgery
Partial Knee Replacement
Rotator Cuff Surgery
Total Hip Replacement
Total Shoulder Replacement
Hand and Upper Extremity Services
Mountain View is home to the only fellowship-trained hand and upper extremity surgeon in North Central Arkansas. At SCMC, we address routine hand and upper extremity conditions such as arthritis, carpal and cubital tunnel syndrome, and trigger finger, as well as, complex nerve and tendon injuries. Combined with our Sports Medicine expertise, we treat orthopaedic conditions from the shoulder to finger.
Joint Replacement Surgery
When a damaged or diseased joint causes pain and disability, joint replacement surgery may be recommended. Stone County Medical Center uses a comprehensive approach to joint replacement surgery that focuses on care coordination, patient and family education, and hospital processes. Our goals are to provide every patient with a personalized experience and excellent outcome.
Sports Medicine Services
With a fellowship-trained Sport Medicine Specialist, SCMC provides diagnosis, treatment for injuries resulting from sports, exercise, and other physical activity. In addition to surgical repair of sports related injuries, our Sports Medicine services include referrals for physical therapy and rehabilitation, and recommendations for strength training, nutrition, and injury prevention for student and recreational athletes.
Recovery and Rehabilitation
Patients who require additional skilled nursing care or outpatient therapy may qualify for admission to SCMC's Swing Bed Program or Outpatient Physical Therapy. A Discharge Planner is available to speak with patients and families about available services and eligibility requirements.